Welcome to our little neighborhood wellness center! We're glad you're here. Communitea Wellness is a place where you can come to relax, breathe and fill your cup through massage, reiki, yoga, meditation, tea, and community. We're a collective of business owners who work together to provide self-care services to our clients and one another. We will always have the kettle on, the massage table warm, and a kind welcome for friends old and new. Thank you for choosing us to walk beside you on your journey to wellness.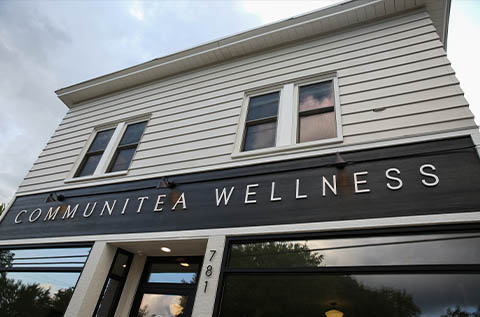 "My personal belief is that yoga is more than a series of poses, it's the union of mind and body together with breath. I've discovered over the years that yoga is physical and soul nourishment. These elements combine to allow you to show up and shine your bright self, leaving each class alive and awakened."
"I love working one-on-one and in small groups doing breathwork and meditation. I have a background in coaching, teaching, and tutoring people of all ages. As a certified pole fitness instructor, I have an understanding of dance and strength training. All of my experiences inform my practice and help me guide you in our sessions."
"I first experienced Reiki after I had hip surgery in 2016 and again in 2019 after being diagnosed with a chronic illness. Reiki contributed to my healing physically, mentally and spiritually. This led me to become a certified Reiki Master.  I'm passionate about Reiki and I'm excited to share this wonderful way of healing with others."
"Helping people and being of service has always been a passion of mine. I obtained a spiritural, life and trauma informed coach certification to guide others toward release, healing, and transformation.Whether someone sees me for an energy tune up or deep trauma processing, I  love seeing the transformation and relief they experience by end of the session; it's rewarding to witness. 
"I love creating an environment for clients to relax their brain and body and detach from the pressures of life, as well as help them feel refreshed and rewarded for all they do."
"I do this work so I can help people feel their best so they can be their best selves. When we feel good, we do good out in the world. Massage is my way of making a positive impact on the lives of those around me."
"As someone who has experienced how medical massage can help your overall wellness, I look forward to helping you with yours by working with you to obtain the goals you would like to reach."
"I'm a massage therapist because I want to help my clients feel less stressed, more centered, and ultimately feel less pain. My goal is to have every client feeling better leaving than they did coming in."